3.2.-9.2. 2016 GREAT MAHAKALA PUJA and LOSAR FESTIVITIES
Course Instructor: Lama Kunga Dorje
Begins: Wednesday 3 February at 16.30
Ends: Tuesday 9 February after lunch
Course fee: 240 Euros [includes all meals and accommodation]
Losar is the Tibetan New Year, a time of auspicious beginnings. Traditionally this holiday is preceded with a four-day celebration of the longer version of the Mahakala puja. Through the purifying and pacifying powers of the chief Dharma Protector of the Kagyu order, we clear away the negativities of the past year and pray for good luck and the removal of any obstacles in the new.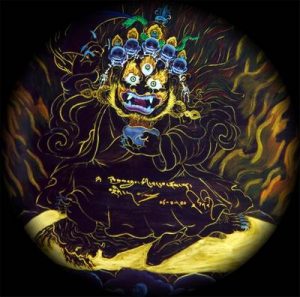 Mahakala is the wrathful form of Avalokiteshvara, the Bodhisattva of compassion; he provides support for the auspicious development of dharma activities, dharma centers and dharma practitioners everywhere. A short version of the Mahakala puja is one of the daily practices in the Halscheid Retreat Center.
The long Mahakala practice starts on Wednesday Feb. 3rd at 4.30 pm and ends on Sunday Feb. 7th with a traditional oracle soup in the evening.
We begin celebrating Losar on the 8th with good luck prayers and rituals, saffron rice and butter tea. At 10 a.m. a fire offering puja will take place for the happiness and peace of all sentient beings in the world. We close the evening with a meditation on Avalokiteshvara.
We finish the festivities on Tuesday the 9th with butter tea and saffron rice and then a delicious Losar lunch, enjoying each other's smiles and best wishes for a happy and joyous 2016.
---
19.-21.2.2016 CALLING THE LAMA FROM AFAR: GURUYOGA RETREAT
Course Instructor: Lama Sonam Rabgye
19-21 February 2016
Begins: Friday 19 February at 19.00
Ends: Sunday 21 Feb after lunch
Course Fee: 130 Euros [includes all meals and accommodation]

On the path of Vajrayana the practice of Guru Yoga is considered a crucially important method of transferring the blessings of the Transmission Lineage, where devotion is considered the basis for all development in the dharma. 'Calling The Lama from Afar' was composed by the great 19th century teacher and scholar Jamgon Kongtrul Lodro Thaye. The profound words and beautiful melody of this evocative song can stir deep devotion and trust, and bring the qualities of confidence, stability, energy and reliable effort to our meditation practice.
Acharya Lama Sönam Rabgye is Resident Lama of the Kamalashila Insitute. He was born in 1961 in Manang, a border area between Nepal and Tibet where many caves of the Great Yogi Milarepa are situated. Lama Sönam studied Buddhist Philosophy in the Shri Nalanda Institute in Rumtek in Sikkim and taught in the Karma Lekshe Institute in Kathmandu. He did the traditional Three Year Retreat at Pulahari in Nepal, the main seat of Jamgon Kongtrul Rinpoche. He was awarded the title of 'Acharya' as an advanced teacher of Buddhist philosophy.
---
24-28.03.16 Easter Retreat: Guru Rinpoche Practice 'Konchog Tschidu'
Course Instructor: Lama Kunga Dorje
Starts: Thursday 24 March at 7pm
Ends: Monday 28 March after lunch
200 Euro [includes all meals and accommodation]
The Guru Rinpoche Practice 'Konchog Tschidu' ('The Essence of the Three Jewels), is a Terma text discovered by the great Terton (treasure finder) Rigdzin Jatson Nyingpo. It has extraordinary power to remove any kind of hindrance.  The special blessing of this sadhana is described in the 'Prayer which Radiates the Light of Blessing', a prayer of devotion to Guru Rinpoche:
"… However – in this degenerate time (these teachings) are a jewel that is poised on the head of a poisonous snake. If I, in these unclear and dark times, make a heartfelt promise with strong longing that stirs the depths of the vajra samaya of the deities of the Three Jewels and the Three Roots, then the extraordinary power of the Lamas – the Holders of the Three Kinds of Transmission, the Yidams and the multitude of the Dakinis, and the ocean of Dharma protectors, as well as through the power of the unchangeable, the truth, the nature and independence of phenomena – will allow the richness of the essential teachings to shine brightly, as the sun and moon bring light into the darkness, and bring to an end the darkening of unjustified attacks. May their victory secure this tradition of deep truth!
The excellent tradition, transmitted by Orgyen Rinpoche and the wisdom holders, has power over the three worlds and subdues the three kinds of existence. It is universally victorious and transgresses all appearances of phenomena. May it spread everywhere!"
---
15-17.04.16 Green Tara Intensive Drupchen Practice
Course Instructor: Lama Dawa
Begins: Friday 15 April at 19.00
End: Sunday 17 April after lunch
Fee: 130 Euros [includes all meals and accommodation]
Perhaps the most well known and beloved of tantric deities and common to all four schools of Tibetan Buddhism, the Green Tara is part of daily practices at many monasteries and centers around the world, including every morning at Halscheid. In her classic posture as a young goddess of action, she leans forward with one foot on the ground, ready at any moment to assist all sentient beings in overcoming their fears and ignorance; and giving protection, courage and hope to those in need. As a supreme embodiment of feminine compassion, beauty and youthful energetic spirit, Green Tara is a simple elegant practice that serves to introduce us to the pure world of the Vajrayana.
During his visit to Halscheid over the past few years Lama Dawa has taught both about the meaning of the Green Tara and how to practice the sadhana. Many of the participants of these teachings expressed the wish for a more intensive phase of practice – a 'Drubchen' – where traditionally the sadhana and meditation continues without any interruption, so that a continuous flow of Green Tara practice will be maintained uninterrupted over the whole weekend. We are happy to announce that Lama Dawa will not only explain the meaning of a Drubchen, but also arrange the schedule and structure of the weekend depending on the amount of participants.
---
13–16.05.16 Khorwa Dongtruk (Red Chenrezig) Retreat: Instructions, Practice and Bardo Puja
Course Instructor: Lama Kunga Dorje
Starts: Friday May 13 at 7pm
Ends: Monday May 16 after lunch
Course fee: 175 Euro [includes all meals and accommodation]
The bodhisattva Avalokiteshvara [Chenrezig] is the supreme embodiment of the caring compassion of all the Buddhas, an impartial compassion that embraces the entire immeasurable multitude of all sentient beings.
The red, standing form of Avalokiteshvara is known as Khorwa Dong Trug: "he who stirs samsara from its depths." The meditation practice associated with this diety is known to be especially powerful, and includes a bardo section, helping to lead the consciousness of the deceased to the pure land of Buddha Amitabha.
As part of this special ritual, at the end of the retreat a list with the names of all deceased will be burned. If you send us the names of recently departed friends, relatives or pets, we will include them on the Amitabha list.
---
10-12.06.16 Introduction to Meditation
Course Instructor: Lama Kunga Dorje
Begins: Friday June 10 at 19.00
Ends: Sunday June 12 after lunch
Course fee: 130 Euros [includes all meals and accommodations]
In this busy contemporary world many people long for tranquility, the peaceful, joyful state of mind that remains unaffected by our often complicated day-to-day routines.
The simple but profound path of meditation that can bring about this tranquility. This easy-to-learn method taught by the Buddha has never lost its relevance and importance in 2600 years.
The development of these qualities also has an unexpected side effect – our relationships with others change in a positive way. We become despite ourselves more compassionate, considerate and loving humans.
This course is for both those who wish to begin learning about meditation and those who wish to further intensify their practice.
---
12-14.08.16 Karma Pakshi Guruyoga Retreat
Course Instructors: Gerlinde Lunz, Evelin Dosedia and Thomas Almesberger
Begins: Friday August 12 at 19.00
Ends: Sunday August 14 after lunch
Cost: 130 euros [includes all meals and accommodation]
It is particularly through the profound practice of Guru Yoga that we are able to connect with the power of the Kagyu lineage masters and quickly receive their blessings.
Karma Pakshi [1204-1283] was the second Karmapa, renowned to this day as an embodiment of Vajrayana crazy wisdom and primordial awareness. In celebrating and supplicating him we invoke not only his bright illuminating energy and miraculous powers but through him, the supreme vitality and continuously unfolding presence of Mahamudra itself.
This weekend retreat will present the Guru Yoga practice of Karma Pakshi in its entirety, including instructions and practice of the sadhana and ending with a traditional Ganachakra or 'great feast.'
Gerlinde, Tom and Evelin are all longtime Kagyu practioners who have completed several Three Year Retreats under the direction of Halscheid's retreat master Lama Kunga Dorje
---
26.08 -28.08.2016 Medicinebuddha-Practics and bodyorientated Mindfullnesstraining
The more awareness is refined,
the greater the agreement with the natural world.
Dalai Lama
 August 26, 2016 – August 28, 2016
Course Instructor: Jutta Spiecker
Begins: Friday August 26 at 19.00
Ends: Sunday August 28 after lunch
Fee: 130 Euros [includes all meals and accommodation]
The program is an addition to the traditional Medicine Buddha practice, providing body-orientated mindfulness and breathing methods that supplement the Quiet Qigong or therapeutic work.
According to Buddhist understanding, we create our personal world and reality with our vision. If this reality is unpleasant because we are sick, for example, it may be useful to change our view of things. This in turn has an impact on the bodily things that will then also redesign themselves.
Awareness is not restricted to the head and brain, as we often assume incorrectly. Awareness is located in each of the 100 trillion cells of the body, a fact which has now been scientifically proven. Mind and body are not separate entities. That is also the reason why meditation, visualization exercises and "positive thinking" affect our health and can cause healing.
This course program is aimed at people who want to learn – in addition to a potential medical or naturopathic treatment – salutary perspectives to take their health and their lives actively and supportively into their own hands. We practice in using meditative techniques conducive to our health.
Jutta Spiecker, born in 1967, naturopath, qigong teacher, artist and mother of three sons is a practicing Buddhist since she was 17 years old. She was a student of S.E. III. Jamgon Kongtrul Rinpoche and co-founder of Rigpe Dorje Association for the Promotion of its projects in India and Nepal. After Jamgon Kongtrul Rinpoche's death, Jutta became a student of Ven. Tenga Rinpoche for over fifteen years. In 2009 Tenga Rinpoche asked Jutta to teach qigong in Dharma centers and pass on their knowledge to other practitioners.
---
02–04.09.16 Visit of Tulku Damchö Rinpoche: Karma Pakshi-Empowerment and Vajrayogini-Empowerment and Teachings
Start: Friday, 2.9., 7 PM
End: Sunday, 4.9., after lunch
Cost: 200 Euro
---
30.9.-3.10.2016 CHOD PRACTICE RETREAT AND GANACHAKRA
Course instructor: Lama Kunga Dorje
Begins: Friday 30 September at 19.00
Ends: Sunday 3 October after lunch
Course Fee: 160 Euros [including all meals and accommodation]
The practice of Chöd is taught by all Tibetan Buddhist schools. It is an extremely effective method for cutting the tight net of ego fixation that binds us to the endlessly turning wheel of suffering. The key point of this 'cutting-through practice' is bringing deluded mind directly to its inherent pure nature, by recognizing it as equivalent to the enlightened state of the 'Great Mother Prajnaparamita'.
Through training in the method known as 'Opening the Door to the Sky' we experience a state beyond duality and intellectualisation synonymous with Mahamudra. Simultaneously we develop limitless, impartial generosity free from ego-clinging.
This weekend is mainly meant for practitioners who have already received instructions and wish to train in the practice with instruments.
Please bring vajra, bell and Chod damaru.
---
21-23.10.2016 MILAREPA GURUYOGA RETREAT AND GANACHAKRA
Course Instructor: Lama Kunga Dorje
Starts: Friday 21 October at 19.00
Ends: Sunday 23 October after lunch
Course Fee: 130 Euros [including all meals and accommodation]
Guru Yoga is one of the most profound and transformative devotional practices in Vajrayana Buddhism. This centuries-old practice not only develops and increases devotion to our guru, but also literally 'mixes' our mind with the enlightened mind of our teacher.
The renowned Tibetan yogi and poet Jetsun Milarepa provides us with an example of the extraordinary power of the stream of blessings caused by devotion to the guru. In his youth Milarepa committed murderous evil deeds and practiced black magic before undergoing deep remorse and a desire for repentance. His subsequent ongoing devotion to his teacher Marpa gave him the strength and ability to achieve enlightenment in one lifetime.
Milarepa is not only an extraordinary example of discipline in the practice of meditation but demonstrates through his profound and poetic teachings the unshakable link between the power of devotion in the student and the grace of compassion in the teacher.  This link is made manifest in the practice of Guru Yoga.
This retreat ends with a Ganachakra Feast.
---
21-22.11.2016 Teachings on the 'preliminary practices' (Ngöndro) Part 1: refuge, Bodhicitta and prostrations
Course Instructor:
Lama Kunga Dorje
Course schedule:
Begins: Monday, 21st November 2016 at 9:30 AM (lunch starts 5:30 PM)
Ends: Tuesday, 22nd November 2016 after lunch
Course fee:
150 Euros [includes all meals and accommodation]
The first part, going for refuge and developing an enlightened attitude, are wonderful and effective methods to calm and reduce the fixation on "I" as the source of all painful states of mind.
With the determination to attain enlightenment, and thereby be of benefit to all sentient beings we can build a solid foundation of focus on the Dharma.
The many prostrations that are connected to this first part of the Ngondro practice strengthen our commitment and help us to reduce our arrogance in order to develop tolerance and to open our hearts.